By ASy
***Read til the end for a Philip Kinglsey Giveaway!***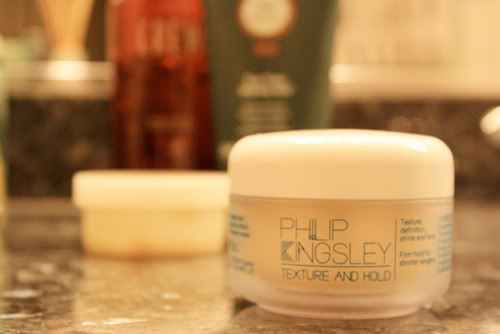 I'm a sucker for two things: good kicks and good hair. Whether you own a pair of Jordan's, Puma's, or the John Varvatos Chuck Taylors, each unique sneaker has its own personality and usually tells a story about who you are, your character and style. Like a fresh pair of Nikes, a good hair style does precisely the same.
But time and time again, whenever the American Crew Pomade
or the Paul Mitchell Tea Tree Shaping Cream
containers come to an end, I find myself wondering what product I'll buy next, because I am never fully satisfied. I make do, but sometimes at the expense of too much product, it results in a heavy feeling and most importantly, a stiff, flaky look.
I've struggled to find a good reliable product, until now…
Philip Kingsley, also known as the hair doctor, really does the trick with his Texture and Hold.
This product, aimed at giving a firm hold with shine was originally a bit misleading. Playing with it at first, I was a hesitant about putting it in my hair since the paste itself was really thick and sticky…almost as if it was just asking to dry up and make my hair rock solid (reminded me of my baby brother's Joico Ice Hair Water-Resistant Spiker
). But after rubbing the paste into the palms of my hand and my fingertips and slowly spreading and shaping it throughout my hair, I was definitely happy with the look and feel I got from Kingsley's product.
If you have short to medium length hair, and are looking for a light weight product that gives you a good hold, Texture and Hold is for you. It is seriously better than any American Crew, Paul Mitchell, D-Fi (also by those guys at Crew), ENJOY and so many others. In the past seven years, I have gone through at minimum 20 different types of product and can only think of one or two that can come close in comparison to this Philip Kingsley one.
The paste does dry up and harden a little bit (how else will you get a firm hold?), but if you mix in a dap coconut oil into your hair afterward, and it feels ten times better.
You can order Kingsley's Texture and Hold on their website or amazon.com
for $35.
GIVEAWAY: Want to test a Philip Kingsley product too? This is a special for our curly-haired friends: Leave a comment on this post for a chance to win Philip Kingsley Curl Activator (which recently won SELF magazine's Best Curl Cream award and is worth $28!
To DOUBLE your chances, tweet "RT @BeautyNDFeast Win Philip Kinglsey's Curl Activator http://ow.ly/1Hkei, voted best curl cream by SELF!". Last day to post/tweet is Thursday, May 13th. Winner will be drawn and announced the following Monday. Good luck!